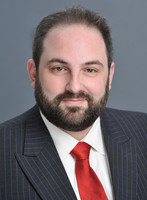 Joshua Graubart
Of Counsel
Education
University of London, 2006
Duke University School of Law,  2005
Duke University, 2005
Dartmouth College, 1998
Prior Firm Experience
Sonnenschein Nath & Rosenthal
Thacher Proffitt & Wood
Josh practices commercial litigation and intellectual property and media law on behalf of numerous corporate and individual clients. His past and present clients include Fortune 500 and equivalent technology and biotechnology companies, numerous small businesses and start-up entities, and independent artists, producers, publishers and distributors.
As a litigator, Josh has represented major industrial and consumer goods manufacturers in multi-million dollar intellectual property actions. He has represented several classes of plaintiffs in copyright infringement class actions, as well as defended a major trademark class action on behalf of a consumer goods manufacturer. On the international stage, Josh has represented a Latin American energy consortium in international arbitration before the International Center for Dispute Resolution concerning cross-border natural gas supply contracts valued in excess of $100 million. He has also acted for both plaintiffs and defendants in numerous suits before the Federal and state courts in New York and New Jersey.
As a transactional counselor, Josh has frequently advised and represented foreign and domestic technology and consumer goods companies with regard to branding, advertising, and intellectual property matters. In 2008 and 2009, he spearheaded (from the lender's side) all intellectual property aspects of two multi-billion dollar loan transactions, including the recordation of security interests in intellectual property in more than twenty countries. In addition, Josh regularly advises independent artists, publishers and producers on copyright and other intellectual property issues, and in connection with the entertainment industry generally.
Josh currently chairs the Information Technology Committee at the Association of the Bar of the City of New York, and sits on the programming committee of the New York chapter of the Copyright Society of the USA. He is also a member of the Association of Independent Music Publishers and the Society of Composers and Lyricists.
Prior to joining WSMB in 2009, Josh practiced commercial litigation and intellectual property law at Sonnenschein Nath & Rosenthal (now Dentons) and Thacher Proffitt & Wood. While a law student, Josh clerked in the Tokyo offices of Baker & McKenzie, and of the Kuroda Law & Patent Office.
Josh received his J.D. from Duke University School of Law and his LL.M. (with merit) in intellectual property law from the University of London. He also holds degrees in history from Duke University and Dartmouth College.
Josh is admitted to practice in New York and New Jersey, and is conversant in Japanese