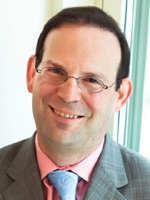 Marc D. Ostrow
Of Counsel
Education
J.D., University of Chicago Law School, 1989
B.A., University of Pennsylvania, 1986
Jurisdictions Admitted to Practice
New York State, 1990
United States District Court,
Southern District of New York, 1990
United States District Court,
Eastern District of New York, 1990
Prior Firm Experience
Coudert Brothers
Bachner, Tally, Polevoy & Misher
Other Prior Experience
ScoreStreet, LLP – CEO and Concept Originator
Boosey & Hawkes, Inc. – General Manager; VP, Business Affairs
Broadcast Music, Inc. (BMI) – Senior Attorney, Legal Dept.
Second Floor Music – Director, Business Affairs & General Counsel
Marc is a copyright and entertainment attorney with extensive expertise in the music business. He represents artists and entrepreneurs, including composers, songwriters, recording artists, labels, publishers and various businesses using music and other intellectual properties. In his more than two decades as an executive and in-house attorney, he has worked in private equity, corporate, and start-up environments. This experience enables Marc effectively to counsel his clients as to both their business and legal issues, including those involving planning, personnel, negotiation strategy and dispute resolution.
Prior to returning to private practice, Marc ran the New York office of London-based classical music publisher, Boosey & Hawkes, representing many of the greatest composers of the 20th and 21st centuries, including several Pulitzer Prize and Grammy Award winners. Responsible for the company's North American business, he increased profitability, streamlined operations and hired key staff. As Vice President, Business Affairs, Marc was also responsible for Boosey's legal, licensing, copyright and contractual matters. Before joining Boosey, Marc was a Senior Attorney with BMI, where he prosecuted copyright infringement actions throughout the country, defended the company in lawsuits and advised management on legislation affecting songwriters.
Since 2010, Marc has served as Adjunct Professor at Westminster College of the Arts of Rider University where he has taught courses on the recording industry, music publishing and starting an arts-related business. He was also the concept originator and co-founder of ScoreStreet, a comprehensive automated online music publishing and licensing service for composers.
Marc has served on the board of the New York Chapter of the Association of Independent Music Publishers and as a Trustee of the Copyright Society of the USA. He also served on the board of the Music Publishers Association and as a publisher member of the ASCAP Symphony and Concert Music Committee. He is a frequent speaker at various industry forums and educational institutions and is also a performing songwriter and composer.