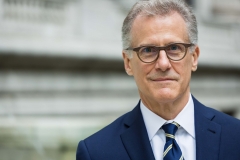 Usher Winslett
Partner
Education
NYU School of Law, 1986
Washington & Lee University, 1982
Jurisdictions Admitted to Practice
New York State
United States District Court,
Southern District of New York
United States District Court,
Eastern District of New York
United States District Court,
Northern District of New York
United States Court of Appeals, Third Circuit
Supreme Court of the United States
Prior Firm Experience
Thacher Proffitt & Wood
Other Job Experience
Odin Media – CEO
DCN – COO
Razor & Tie Entertainment – Principal, EVP, General Counsel
Usher is the head of WSMB's dispute resolution practice group. With decades of trial, alternative dispute resolution, and appellate experience, Usher has been involved in some of the highest profile civil cases in recent years, including a case involving what CNBC called "[t]he biggest art fraud in modern U.S. history"; the multi-district litigation regarding the alleged manipulation of LIBOR (In Re: Libor-Based Financial Instruments Antitrust Litigation, 1:11-md-02262-NRB); landmark securities cases arising out of the 2008 financial crisis (such as U.S. Securities and Exchange Commission v. Stoker, 11-cv-7388); and several headline-grabbing cases related to the Academy Award winning Best Picture Birdman – to name a few. During the course of his career, Usher has counseled individuals and businesses of all types and sizes, as both in-house and outside counsel. Moreover, he has served as an arbitrator and mediator for more than 20 years and brings that experience to his dispute-resolution skill-set (click here for more details). In addition, he has held senior executive positions in multiple companies, so he understands the client-perspective on litigation first-hand.
Usher began his legal career as a commercial litigator at Thacher Proffitt & Wood, where he represented large financial institutions and insurance companies. When he moved to the business side, Usher served as CEO of Odin Media (a producer of technology-enabled marketing solutions for companies like Comcast and Cablevision), as COO of Digital Club Network (a groundbreaking start-up that pioneered using digital and Internet technologies to record and webcast live concert performances), and as principal, EVP, and general counsel of Razor & Tie Entertainment (a multi-faceted media company that includes a record label with multiple Gold and Platinum releases).
In 2008, Usher co-founded WSMB and returned to his career-roots as a commercial litigator. Under Usher's leadership, WSMB has built a world-class litigation group, which regularly handles everything from bet-the-company cases for large institutions to routine disputes for individuals and small businesses. Usher graduated with honors from Washington & Lee University and NYU School of Law and has served on the Washington & Lee University Alumni Board of Directors.
Representative Matters
Usher acted as lead counsel representing a group of over 40 venture capital firms in an international arbitration and foreign court action with more than $120 million at issue.  The matter involved a series of disputes arising out of a foreign public company's purchase of a U.S.-based technology company controlled by the VCs. In resolving those disputes, Usher led the team that tried and won a court case in Norway. Then WSMB achieved a favorable settlement of the overall dispute after Usher delivered his opening statement to the international arbitration tribunal in London.
Usher represented Knoedler Gallery — one of the world's most prominent art galleries before its closure – in a case involving what CNBC called "[t]he biggest art fraud in modern U.S. history". The matter involved the sale of fake art attributed to Mark Rothko, Robert Motherwell, Willem de Kooning, and Jackson Pollock, among others.
Usher led the WSMB team that obtained a TRO and order attaching the assets of Worldview Entertainment Partners VII, one of the production/finance companies behind the Academy Award winning Best Picture Birdman. Morgan v. Worldview Entertainment Holdings, Inc., NY Supr. Ct., Index No. 652323/2014.
Working closely with WSMB's intellectual property group, Usher obtained a preliminary injunction in a trademark infringement action against a high-profile, VC-funded technology company.  The order required the defendant to immediately cease operations and completely re-brand before reopening. Bulman v. 2BKCo. Inc., 882 F.Supp.2d 551 (S.D.N.Y. 2012).
Usher acted as lead counsel for the defendant's immediate boss in U.S. Securities and Exchange Commission v. Stoker, 11-cv-7388. In that case, former Citigroup Inc. official Brian Stoker defeated the U.S. Securities and Exchange Commission in a trial involving a deal at the center of the bank's proposed $285 million settlement with regulators over subprime residential mortgage securities. Usher worked extensively with the joint defense team in that successful effort, counseling Stoker's boss through the whole discovery process and preparing him to testify at trial.
Usher acted as lead plaintiffs' counsel for a group of 13 portfolio managers and other senior executives of a failed, New York-based hedge fund in connection with claims of breach of contract and fraud, among others. After a seven-day arbitration hearing, WSMB won a seven figure award for the first client. The defendant then settled the other 12 claims.
Usher acted as lead counsel for National Collegiate Student Loan Trust 2007-1, a defendant in the mammoth multidistrict litigation regarding the alleged manipulation of LIBOR. National Collegiate was accused of using tainted LIBOR numbers to affect rates on student loans. WSMB was successful in having all claims dismissed against its client.