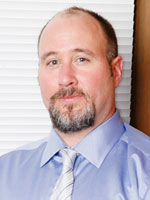 Andrew McCormick
Partner
Education
NYU School of Law, 1990
Colgate University, 1987
Prior Firm Experience
Brown Raysman Millstein Felder & Steiner
Thacher Proffitt & Wood
Andy has extensive experience assisting a wide-variety of companies with their intellectual property and technology matters, including complex IP and software licensing issues, the acquisition, protection and maintenance of IP, privacy issues, and general business affairs.   Andy has represented many leading digital, mobile and media companies in a variety of fields, and has worked with many software and application developers, ed-tech and fin-tech companies.  Andy has a robust practice advising multinational companies with respect to data privacy and security, and in particular, the ever-evolving statutory compliance landscape and student data privacy.
He has an extensive trademark practice and advises at every stage of the branding process, providing advice with respect to the selection and availability of marks in the US and throughout the world, the trademark application and prosecution process and the defense, enforcement and protection of marks. He works with many design, fashion and beauty companies with respect to their branding, marketing and social footprint, and handles manufacturing, distribution and licensing agreements.  He counsels with respect to trade secret protection as well as complex copyright matters, including terminations of transfer, music copyrights and other entertainment matters.  On the corporate side, Andy has acted as outside general counsel to many early-stage companies, providing advice and services related to formation, founders agreements, employment contracts, angel and venture financings, acquisitions, and the related due diligence associated with such transactions.
Prior to WSMB, Andy was Counsel at Brown Raysman Millstein Felder & Steiner, where he worked in the Technology, Media and Entertainment Practice Group, and he was a litigator and IP lawyer at Thacher Proffitt & Wood for many years at the start of his career.
Andy received his J.D. in 1990 from New York University School of Law and his B.S. in 1987 from Colgate University (magna cum laude, Phi Beta Kappa).