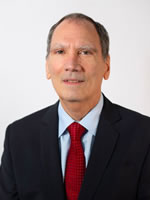 Timothy P. Fisher
Of Counsel
p: +1 (212) 683 4224
f: +1 (212) 683 2184
Practice Areas
US and State Income and Estate Taxation
Tax Planning for Inbound Investments and Businesses.
Employment and Executive Compensation
Tax Exempt Organizations
Corporate & Financial
Sales Taxation
Education
New York University School of Law, 1976
New York University School of Law, 1973
University of Notre Dame, 1969
Prior Firm ExperienceTimothy P. Fisher, Esq. P.C.
Paradise, Alberts & Fisher LLP
Halberstam, Ellis, Zeif, Funk & Fisher, PC
Battle Fowler Lidstone Jaffin Pierce & Kheel
Mortin Geller, Esq
Timothy P. Fisher has provided combined tax expertise with general corporate representation in order to provide fully integrated legal advice to individual businesses and the international community. With over 40 years of experience in income tax, estate tax, pension, international tax, negotiations with the IRS, and general business law, Tim is well-versed in interpreting and resolving clients' personal and business concerns in a comprehensive manner.
Throughout the years, Tim has given various private seminars, regarding employee benefits, pension, ERISA, estate planning, sales taxation, deferred compensation, changes in tax laws and US tax planning for inbound businesses and individuals. His publications include, and are not limited to, authoring articles for ESOPS, and the tax chapter in Bertram Harnett's "Responsibilities of Insurance Agents and Brokers", published by Matthew Bender & Co., 1999. He has been the principal tax attorney in several firms, addressing all tax issues raised by the firms' clients
Tim represents closely held businesses and their principles, as well as not-for-profit organizations, trusts and estates and individuals regarding estate planning, employment arrangements and benefits and income tax issues, and planning for foreign persons and businesses that intend to invest and/or enter the U.S.
Tim received his B.S. in physics from the University of Notre Dame in 1969, and his J.D. as well as LL.M in Taxation from the New York University School of Law in 1973 and 1976. He is admitted as an attorney in New York.
Professional Activities
Member, New York State Bar Association – Tax and International Sections
Member, The Group, a private national association of tax-oriented professionals
Member of The New York Tax Study Group
Partner, EurAupair International, Inc. – International NFP cultural exchange organization